The Demon King's Bride (Married To The Devil Book 4)
Roxie Ray & Skye Wilson
$2.99
​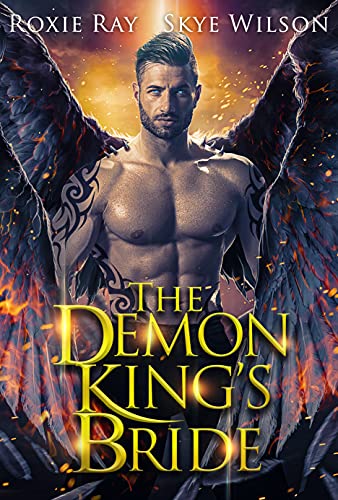 Marrying a demon king wasn't part of my wedding plans . . .

I always knew I'd marry Simon. We may not love each other, but as my father's sole heir, a union with Simon will ensure our family's fortunes remain safe.

Only there's nothing safe about the man standing opposite me on the altar. This man speaks words of love and passion. Words I know Simon would never say.

Then my groom kisses me, and my world breaks apart.

Simon would never kiss me like this. But this man . . .

Dark-haired, gray-eyed, and sinisterly handsome, and nothing like my intended. Surely I must be dreaming?

Then he whisks me away to our honeymoon, to a place I don't recognize. He tells me I'm in danger, and that Simon wants me dead. That he has the power to protect me.

How does he know this? Because he's Abaddon. Don for short. Not that his nickname makes it any better when he's one of the Three Kings of Hell.


It turns out I've gone and married a demon . . . oh, and it gets better. Apparently, we've known each other before and he's convinced we're destined to be together.

Do I risk losing my heart to my dangerously dark husband? And if I trust him, will I come out alive?

Click here to view on Amazon >>

Radar Deception
Mandy M. Roth
FREE
​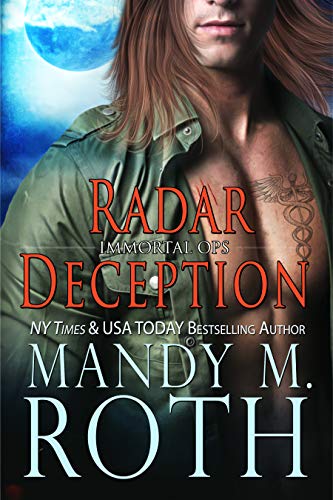 Paranormal Shifter Military Special Ops Romance

Dr. Thaddeus Green survived a werepanther attack long ago, leaving him immortal and a member of the I-Ops team. He's dedicated his life to genetics and to serving his country. After his mutated DNA led to the death of his loved one, he vowed to never let anyone close to his heart again. Try as he might, Green is unable to stop the mystical pull to the tall, leggy blonde with a sharp tongue and an even worse bite. Thinking Melanie is suffering from mating withdrawal, Green is prepared to do what he must to assure her survival, even if it means claiming her for himself, regardless of his need to protect his heart. Little does Green know that fate has been preparing him for Melanie Daly all his unnaturally long life.

When ghosts from the past resurface, in ways he never dreamt possible, the normally mild-mannered scientist finds himself drawing on his inner beast and rage to assure his mate and their future are protected. But even Green can't fight all of Melanie's battles for her. Some she has no choice but to face on her own. Can their bond stand the test of time?

Click here to view on Amazon >>

Claimed: Dark Breeds of the Lycans
LaSasha Flame
FREE
​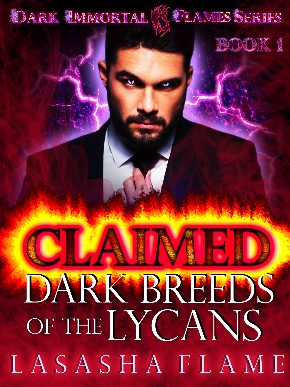 Rike And Amelia's Story Is No Accident! Their Dance Of Love, Hate, And Lust Is A Trigger To The Apocalypse.

Rike West

Everyone Fears Me.

But I Don't Mind It. There Is Power In Fear.

I Earned Every Drop.

Every Quiver.

Every Scream.

Problem Is…

That Same Fear Is Standing In The Way Of Me Taking What Belongs To Me.

I Thought Claire Was The Answer To My Problems

So I Married Her.

Then The Gods Laughed And My True Mate Amelia Showed Up

After I Already Said I Do.

And Because Fate Is Cruel To Monsters Of The Worlds

And The Villains Never Win…

My One Chance At Love Hates My Guts.

But That's Okay…

Because I Don't Need Love

I Need An Heir

And She Will Be My Queen And Birth My Children

Whether She Likes It Not.

I Am Not The Prince In This Fairytale

I Am Rike West

And She Will Learn Why They Call Me The Dark King

******************************

Amelia Torrin

Future Queen Of The Dark Moon Empire?

Ha… I Think Not!

Yeah He Might Be My Mate But He Is Going To Learn Real Fast…

I Am Nobody's Prisoner.

I Will Kill Him Before I Ever Agree To Birth His Unholy Offspring.

I Am Amelia Torrin

Do Not Underestimate Me.

******************************
The End Is Near!

Discover A Scorching New World Of Immortals In Lasasha Flame's Dark Immortal Flames Series! Each Book Is Popping The Lock On Lucifer's Cage In This 13 Book Series.

If You Enjoy Characters Of Color, Paranormal And Fantasy Romances With Werewolves And Lycans, Alpha Men, Strong Female Characters, Secret Babies, Forbidden Love, Bad Boys With A Soft Spot, Vulgar Language, Hot Scenes, And Enemies To Lovers Claimed Is The Book For You! Can Be Read As A Standalone But Better In The Series.

If You Enjoy Paranormal And Fantasy Dark Romances With Werewolves And Lycans, Alpha Men, Strong Female Characters, Explicit Language, Hot Scenes, Enemies To Lovers, Jinn, Friends To Lovers, Gods With Dark Pasts, Dark Faeries, Magic, Dragons, Vengeance Spirits, Fae Kings, Dangerous Nightmares, Halflings, Star-crossed Lovers, Daemon Lovers, Surprise Babies, Second Chance At Love, Tiger Shifters, Immortal Royalty, Arranged Marriages, Throuple Triangles, Angels, Battles Between Angels And Demons, Forbidden Love, New Worlds, Fated Mates, And A Love With Apocalyptic Consequences!

This Is The Series For You!

Help Me To Release The Devil And Burn It All Down. All You Have To Do Is Read The Book 😉

Each Book Can Be Read As A Standalone But They Are Better In The Series! For The Full Experience Read The Side Stories Along Side The Main Series.
Dark Immortal Flames Series Shared World Chronological Timeline Reading Order
Birth Of A Sand Viper: Origins Of Jafar
Behind The Veil: Beauty And The Daemon
Captive Of A Dark Prince
Claimed: Dark Breeds Of The Lycans
Taken: Arabian Nights In Captivity
Kindled: Set Light To Fire

Also Become An Official Flame By Joining My Newsletter https://signup.lasashaflame.com/mybooks And Receive The Latest From Me, Behind The Scenes Sneak Peaks, Giveaways, Free Books, And Must Adds For Your To Be Read List!

Click here to view on Amazon >>

Also available in audio!